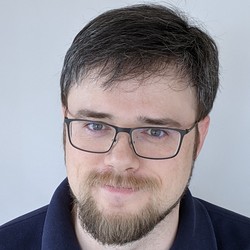 My name is Michael Kelly. I live in Greater Pittsburgh, PA, and work as a Software Engineering Manager at Proofpoint.
Education
Graduate (2011-2014):

Undergraduate (2003-2008):
Work History
Sustaining Engineering Manager, Proofpoint (2021-Present)
Identified root cause of, and fixed, various tricky or lingering bugs in the Proofpoint Security Awareness Training (PSAT) product portfolio

Maintained and modernized a Java based web application to manage network services for our customers.
Integrated with 3rd party network provisioning systems over CORBA and RESTful XML APIs
Integrated with 3rd party CRM systems over RESTful APIs
Improved the reliability of the system by adding automated testing, reproducable builds.
Mentored junior developers.
Coordinated efforts of multiple consultants.
Modernized server architecture, with an eye towards "Devops".
Built a modern application development & deployment pipeline.
Assisted in the migration to, and integration with, a 3rd party IPAM and DNS solution.
Improved the availability of our primary application by adding redundancy at different tiers.
Built features based upon a message oriented middleware architecture.
Migrated our Java web application to run on AWS Elastic Beanstalk, along with supporting infrastructure (RDS, SES, MQ)

Using primarily Java, worked on projects related to PNC.com
Worked to integrate vendor-designed websites with the Adobe CQ Web Content Management platform
Major Projects:

PNC Locator: maintenance and improvements to the ATM and Branch locator website and data loading process.
PNC.com: helped to launch a rebuilt version of the site on a new platform, working to improve the scalability of the application

Developed customer facing systems in perl

Front end development (including jQuery-driven AJAX UIs)
Back end development (account management services, software installation, etc)

Major Projects:

pairSIM (Software Installation Manager): a tool for "one click" installations of popular web applications (e.g. WordPress, Drupal, etc)
System Notification System: allowed customer to subscribe to notifications about outages for their individual servers, as well as larger-scale outages, via Email or RSS
Backups file browser: provided a tool for customers to browse "snapshots" of their files in time

Worked on an addition to Gentoo's package management software to improve management of users and groups for system packages (GLEP 27)
Gained experience drafting project proposals, and programming shell scripts
Resume
You can download my resume.